WELCOME TO THE NEW ENGLAND REGIONAL
CHAPTER OF THE WORLD HISTORY ASSOCIATION
Our regional affiliate of the WHA is active and growing. Within these pages you will find our mission statement, member list, members' teaching and research links, and information about upcoming events and conferences. Most important, you will find a way to join our ranks and spread the word about what we, and you, are doing!
---
Fall 2014 Symposium
The New England Regional World History Association
Call for Presenters

"Industrialization and World History"
Hosted by
Middlesex Community College and University of Massachusetts Lowell
Lowell Federal Building
25 October 2014

The New England Regional World History Association (NERWHA) invites proposals for panels, individual papers, and roundtables related to the theme of "Industrialization and World History."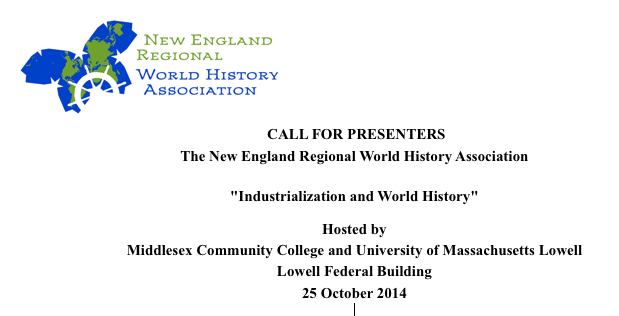 Proposals can be interdisciplinary, research-based, or have a pedagogical framework. Preference will be given to submissions based on the symposium's theme, but we also welcome submissions on all aspects of world history scholarship and pedagogy.
Submissions relating to the theme could include, but are not limited to, any of the following consequences of industrial development in any era of the human past:  urbanization and social change; environmental challenges; social-economic stratification and daily life; migration and challenges to identity and culture; leisure time and social change; new paradigms for regulations and power relationships; imperialism and responses to colonialism; modern ideologies; labor and political responses; and challenges to Eurocentric models of development.
For more details, go to the "Call for Presenters" page (above) or click

here

.
---
Here is the Current NERWHA Bulletin


---
NERWHA officers (please click on the link to view their CVs):
President: Michele Louro, Salem State University
Vice President: James Diskant, John D. O'Bryant School of Mathematics and Science
Secretary-Treasurer: Dane Morrison, Salem State University

---