WELCOME TO THE NEW ENGLAND REGIONAL
CHAPTER OF THE WORLD HISTORY ASSOCIATION
Our regional affiliate of the WHA is active and growing. Within these pages you will find our mission statement, member list, members' teaching and research links, and information about upcoming events and conferences. Most important, you will find a way to join our ranks and spread the word about what we, and you, are doing!
---
Fall 2014 Symposium
The New England Regional World History Association
Program

"Industrialization and World History"
Hosted by
Middlesex Community College and University of Massachusetts Lowell
Lowell Federal Building and Boott Mill
25 October 2014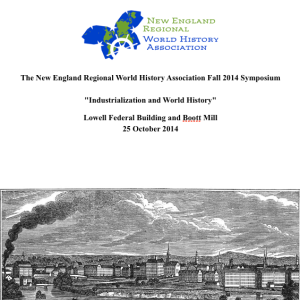 The New England Regional World History Association (NERWHA) cordially invites to it's Fall Symposium for a day of panels, individual papers,roundtables, and tours related to the theme of "Industrialization and World History." The program participants will explore various aspects of Industrialization in world history, including panels on Global Perspectives on Industrialization, on Industry and Empire, on Industrialization as Big History and the Symposium will conclude with a walking tour of Boot Mill, with a final panel discussing how to teach using historical places and photographs.
Our Fall Symposium looks to be another in a series of academically rigorous and pedagogically useful NERWHA offerings. We hope to see you in Lowell.
NERWHA would like to thanks it's hosts and sponsors for this conference: Middlesex Community College Division of Humanities/Social Sciences and Commonwealth Honors program, UMass-Lowell Graduate School of Education and the Department of History and the National Park Service.
For the entire program,

click

here

.
---
Here is the Current NERWHA Bulletin


---
NERWHA officers (please click on the link to view their CVs):
President: Michele Louro, Salem State University
Vice President: James Diskant, John D. O'Bryant School of Mathematics and Science
Secretary-Treasurer: Dane Morrison, Salem State University

---